On-page SEO involves optimizing websites and pages to improve rankings in the major search engines. It is relatively straightforward for organizations to optimize the elements of on-page SEO and improve search rankings since they have a high degree of control over these factors.
Content, keywords, HTML, and architecture are all important components of on-page SEO.
1. CONTENT
The production of good content on a regular basis is key to search engine marketing. Content must fulfill a need, usually by providing information or answering a question. To rank highly in search results, content must be useful, whether it's text, audio, or video.
To optimize search engine marketing, digital content should follow the following rules:
High-quality content ranks higher in search results than low-quality content. Search engine rankings tend to improve when organizations produce and deliver content that provides value to end users.
Search engines evaluate a user's intent when searching to provide the best results. A targeted user's intent should be reflected in digital content. A recipe post with instructions should be targeted at searches for cooking assistance, for example.
New content that is timely and relevant typically ranks higher than older content that is not timely or relevant. In addition to new content, search engines also reward pages with updated links and statistics.
Over time, content has emerged as one of the best ways to improve marketing SEO. Search engine marketing goals cannot be achieved without producing high-quality content consistently.
2. KEYWORDS
Keywords are the subjects or topics of content pieces that are the basis of search queries. SEO marketing efforts are closely tied to keyword research and selection. In order to maximize search engine marketing, organizations should select keywords that are both frequent and competitive.
Organizations should use a keyword research tool to determine how frequently users search for specific terms. Keywords that are highly relevant to business products or services are unlikely to be effective if no one searches for them. In order to market SEO effectively, you must choose a popular keyword.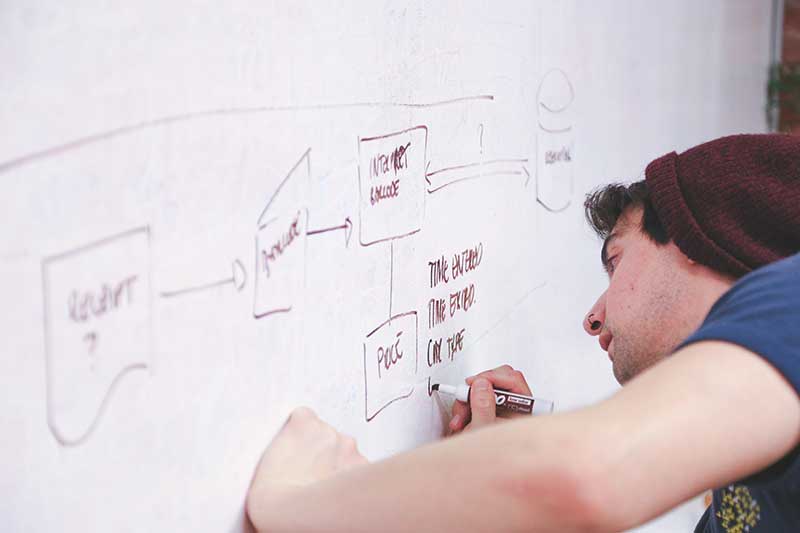 In addition, it is important to assess the competition for popular keywords. There can be difficulty breaking through to the top search results if there are already many other companies using the keyword – particularly well-established organizations with high online gravity. Consider related keywords that have less competition when the landscape is this crowded.
3. HTML
Optimising specific HTML elements can improve a website's search rankings. In this sense, the way HTML pages are tagged, described, and labeled indicates their quality to search engines. Digital marketing efforts can be greatly enhanced by cleaning up and maintaining HTML elements.
From a marketing SEO perspective, the following HTML elements are particularly relevant:
In search results and in the user's browser tab, the title tag describes the page. In the search results, the title tag should contain the target keyword and provide a compelling reason to click on it.
The meta description appears below the title tag in search results, providing a general overview of the page. The 160-character description provides additional information that may persuade users to click through to the content.
A URL is the unique digital address of a webpage. The URL should include the target keyword and indicate the site hierarchy in order to rank highly in search results. Search engine rankings can be negatively affected if this information does not appear clearly in the URL.
Alt Text – Alt text is a description of an image that was traditionally used to relay information to visually impaired users. Aside from describing an image, alt text can also include target keywords to improve search engine rankings.
A heading is similar to an outline in that it helps divide a piece of content into sections. Titles are usually labeled with "H1" headings in HTML content, with six levels of headings. SEO marketing efforts can be improved by dividing content into digestible pieces and labeling each one appropriately.
4. ARCHITECTURE
An important aspect of on-page SEO is the architecture of a website or page. While end users do not typically examine a page's architecture, these behind-the-scenes elements can have a significant impact on SEO.
Optimising websites or pages for SEO benefits requires consideration of the following architectural elements:
Search engines use automated processes to "crawl" or index digital content and determine appropriate rankings. Organizing the pages on a site can help crawling efforts and improve search engine optimization.
Page loading speed – Pages that load quickly tend to rank higher in search engine results. When a page or one of its elements takes a long time to load, it creates a negative user experience. Slow-loading pages are devalued accordingly by search engines.
Phones and similar devices account for an ever-growing share of search activity with the rise of mobile technology. As a result, major search engines will penalize websites and pages that are not optimized for mobile devices.
Search engines are wary of sending traffic to unsecure or unsafe websites. Due to these risks, search rankings are typically downgraded for these destinations. An organization can gain credibility from a search ranking perspective by securing their website with HTTPS and SSL certificates.